Terry Kitchen Towel Bibs
Submitted by Janice (JANR1)
I buy in bundles..This last time it was five in a bundle and I bought two bundles cost was 5.00 plus tax.
Fold over the top about 1/4 of the way.
Then fold that in half the long way.
You are now ready to cut the hole. Start real small as you are doing this in quarters and it gets real big real fast.
I cut and try to put over a childs head. If it fits over I know its big enough. Then you are ready to cut the ribbing. I prefer my ribbing to be at least 2 inches wide. Sometimes you buy it by the yard and then cut the width you want to use.
Again use a child and fold it and measure the length that will fit over their heads easily. I try to use the child with the biggest head.
Then you will sew one end to the ribbing together. Giving you a two inch seam. Mark around it in quarters. Meaning to mark the center of it use the seam as the back center. Then do the same on the sides. You will also need to do this on the hole you cut in the towel.
Then pin it in the four places. This is so when you stretch the ribbing it will all be even around the neck. I use a zig zag stitch on my machine as they will stretch without breaking the thread. I sew close at the edge of the fabric and the ribbing as I go. Making sure that the edges are all together. Use as wide a zig zag as you can. You need to really be on the towel fabric otherwise it will pull lose from it.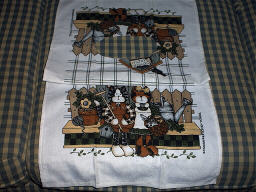 Towel with the hole cut in the upper end.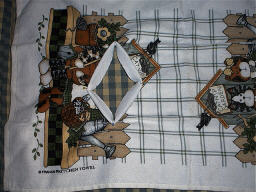 With the ribbing pinned on. Notice how its quartered.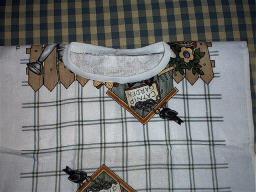 After the ribbing is sewn on.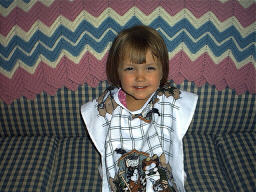 Bib on child, they are long and I'm sure could be used for more than eating.

Copyrightę Childcare & Beyond